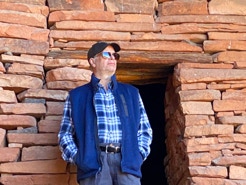 Here you will find my blog entries from several years back.  I have recently created a separate blog site which will have my new blog posts.  You can access that site at The Open Word Blog

Well, it's finally out. Rob Bell's new book, Love Wins, has hit the shelves and already the Internet and blogosphere is abuzz with controversy about what is said, and where Rob Bell apparently lands...
Saturday, October 2, 2010
One of my fascinations has always been the human body, specifically how the body is structured and how it works. I remember the first time I got to actually observe the human body up close. I was...
Mormonism claims that the Book of Mormon is a true and accurate historical account of a group of Israelite refugees who were brought to the Americas in the seventh century B.C. by God and who became...
Wednesday, September 1, 2010
I recently had a somewhat disturbing conversation with a friend of mine that I knew from several years back. I met this person at a social function, and when I asked about her husband I was dismayed...
Recently I happened to have a conversation with an acquaintance that is a member of the Church of Jesus Christ of Latter Day Saints, also known as Mormons. It was an interesting conversation as it...